20 Jan

INDOR is Ready to Launch a New Permitting System

The much-anticipated new INDOR OSW permitting system is expected to be launched Monday, February 8th.

During the transition to the new system there are important dates to take note of.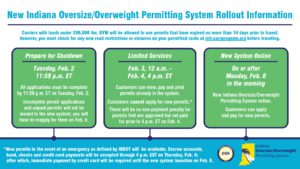 New permit applications will not be accepted after 11:59pm EST on Tuesday, February 2nd
Applications submitted prior to 11:59pm EST Tuesday, Feb 2nd will be processed but must be purchased by 4pm EST Thursday, Feb 4th
Emergency permits will be available during the system outage; Emergency permits are unexpected equipment failure that will shut down manufacturing, breakdown, or threat of breakdown of electric, gas, water or telephone utilities, train derailment, or any situation that poses immediate danger to life or health.
Permit America, Inc was honored to be asked to collaborate with INDOR in testing their new system to ensure a seamless transition. We look forward to utilizing all the new features to help expedite IN permits for our customers.