17 Sep

Permit America, Inc. Receives Recognition from Kentucky Chamber of Commerce

Permit America, Inc. is proud to be recognized by the Kentucky Chamber of Commerce for achieving 90% vaccination rate.  Permit America's goal everyday is to keep their customers trucks safe, legal and on time.  During these trying times, Permit America did not waiver, we adapted and faced this obstacle head on the same way we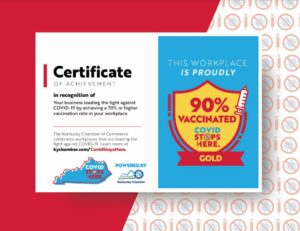 do every permitting obstacle in our way.  In true Permit America fashion, we are persevering all Covid-19 obstacles exactly the same way we do all permitting obstacles with SUCCESS! Permit America is proud to do their part to keep Kentuckians safe and healthy at work to keep the economy moving.
Permit America also understands the impact Covid-19 has had on our customers, their families and their employees.  Please know that you are all in our thoughts and prayers everyday.  If there is anything Permit America can do to assist with your day to day permitting to ease the burden please reach out to us via email permits@permitamerica.com by phone 866-573-7648 or via our Contact Us Page